copyright © 2004 - 2014 ostghost.com
tv, film

Artist cooperated on film animations "Cantilena" ( directed by Karel Trlica ), "Indian tales" ( directed by Milan Lesniak ), "Cutlas - 1000 cannons for gang" ( Zlín lots ).

Apart from range of advertisements he participated in animated feature film "Fabulous show" ( directed by Vladimír Mráz ) as a designer and animator. In 2002 this film won a prize of Child jury on filmre festival Filmák in Pilsen. See more on bajecnashow.cz .

As an designer and animator he participated between years 1995 – 1999 in music programme of Czech televison "Medusa".

He is author of cartoons for internet server
skyfly.cz
www.abrakamuzika.cz
e-jazyky.cz
kiteloft.ca
and server for kids alik.cz
( this server was awarded in year 2003 as a best kids server in Czech republic ).

He is familiar with different PC-based graphical applications used for the design and illustration.

Mr. Quiss decorated restaurants U splavu, Na Zahradní ( Lipník n. B. ) and U Velblouda ( c. Přerov ) with his unique art works.

WONDERFUL SHOW

81.59 KB

MEDUSA

397.09 KB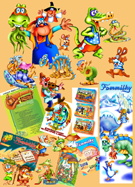 PC based design and illustration - 1

220.75 KB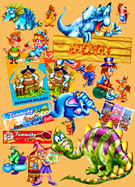 PC based design and illustration - 2

214.02 KB